Home
Announcements
Assumptions
Board Meetings
Board of Trustees
CBA Docs
City Ordinance
Disclosures
Fallen Heroes
Honor Roll
In The Boardroom
Invest Guidelines
Investments
Newsletters
Our Location
Plan Provisions
Public Records
Service Providers
Summary of Plan
Web Awards

---
Pension Plans
Forms & Policies

---
HPD Facebook Page
Hollywood FOP Lodge

A Thinner Blue Line
Federal Reserve
Memorial 9/11
National Law Enforcement Officers Memorial Fund
Police Honor Guard - Broward County
Today's Weather
Social Security for Seniors



Welcome to the City of Hollywood
Police Officers' Retirement System Website

---
Officer Yandy Chirino #3534
---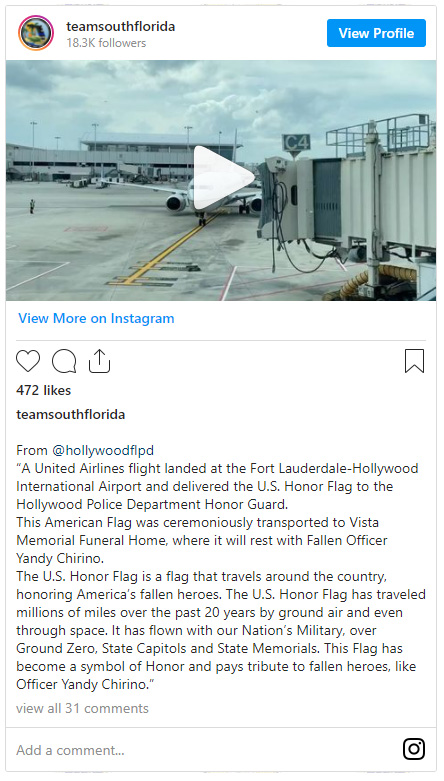 Arrangements are being finalized for our Fallen Officer Yandy Chirino #3534. Please take note of the following:

Viewing
Date – Sunday, October 31, 2021
Time – Hollywood Personnel - 1:00 P.M. Thru 3:00 P.M.
Time – Public - 3:00 P.M. Thru 6:00 P.M.

Funeral
Date – Monday, November 1, 2021
Time – Service begins at 10:00 A.M.; Doors open at 8:30 A.M.

Fundraiser


---


---

October 18th, 2021 - Today we remember Hollywood Police Officer Yandy Chirino.

Early this morning Officer Chirino died in the line of duty while responding to a call for help last night. He was 28 years old and had been with the Hollywood Police Department since 2017. In just this short time, he was recognized multiple times for his outstanding work ethic, received five commendations and was Officer of the Month for June 2020.

We offer our deepest sympathies to Officer Chirino's family. Your son selflessly devoted his life to law enforcement, was a great officer and will leave a lasting impact on our community. There are no words that can comfort the pain your family is feeling right now. Please know that pain extends here, with his brothers and sisters at our Department. The Hollywood Police Department Family will stand beside you in the difficult days ahead and will always carry on your son's legacy.

Officer Chirino will be remembered for his selfless actions and his sacrifice. He gave his life honorably and without hesitation, protecting those in our community.

---