Home
Announcements
Assumptions
Board Meetings
Board of Trustees
CBA Docs
City Ordinance
Disclosures
Fallen Heroes
Honor Roll
In The Boardroom
Invest Guidelines
Investments
Newsletters
Our Location
Plan Provisions
Public Records
Service Providers
Summary of Plan
Web Awards

---
Pension Plans
Forms & Policies

---
HPD Facebook Page
Hollywood FOP Lodge

Federal Reserve
Memorial 9/11
National Law Enforcement Officers Memorial Fund
Police Honor Guard - Broward County
Today's Weather
Social Security for Seniors



Welcome to the City of Hollywood
Police Officers' Retirement System Website

---
Lt. John Graham #2853
---

Details for Lt. John Graham's (#2853) Memorial Service have been finalized:

Memorial Service
Date – Thursday, November 4, 2021
Time – Service begins at 10:00 A.M.; Doors open at 9:00 A.M.

Immediately following, all personnel may respond to the 17th Street bridge parking lot in Fort Lauderdale for a final salute to John, as a Police boat procession passes under the bridge in route to his final resting place.

A map will be provided for further direction/placement.


---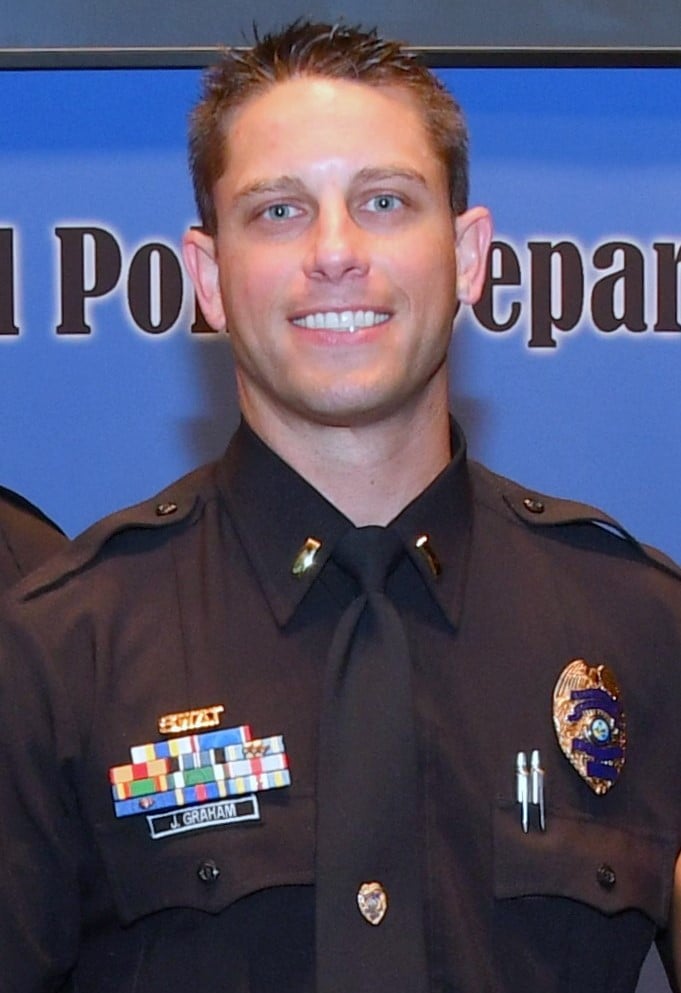 ---

The Hollywood Police Department is deeply saddened to share the unexpected and devastating passing of Lieutenant John Graham.

Lt. Graham devoted his life to public service, as a member of the United States Marine Corp from 1996-2000 and as a Police Officer here at the Hollywood Police Department for 20 years.

Lt. Graham was a platoon leader in the Police Academy, received a Bachelors of Science from Union Institute in 2012, attended the Southern Police Institute in 2014, and received a Masters in Public Administration from Nova Southeastern University. He was also recently accepted into Nova Law School.

Lt. Graham served for 15 years on the Hollywood Police SWAT team where he held the title of Operator, Team Leader, Assistant Commander, Sniper, Explosive Breacher, and Rapel Master.

Lt. Graham became a Sergeant in June 2013 and was promoted to Lieutenant in 2018. While holding the rank of Lieutenant, he was in our NTL Unit, then Bravo shift Patrol and most recently in the Training Unit.

He was recognized many times for his leadership at the Department. He received 24 letters from the community detailing his hard work, and received 12 Supervisor Commendations as well as a Unit Citation. Lt. Graham was Officer of the Month in December of 2007.

He was a member of the Florida State Boxing Commission from 2012-2021.

As we struggle to understand, please keep John and his family in your thoughts and prayers.

---